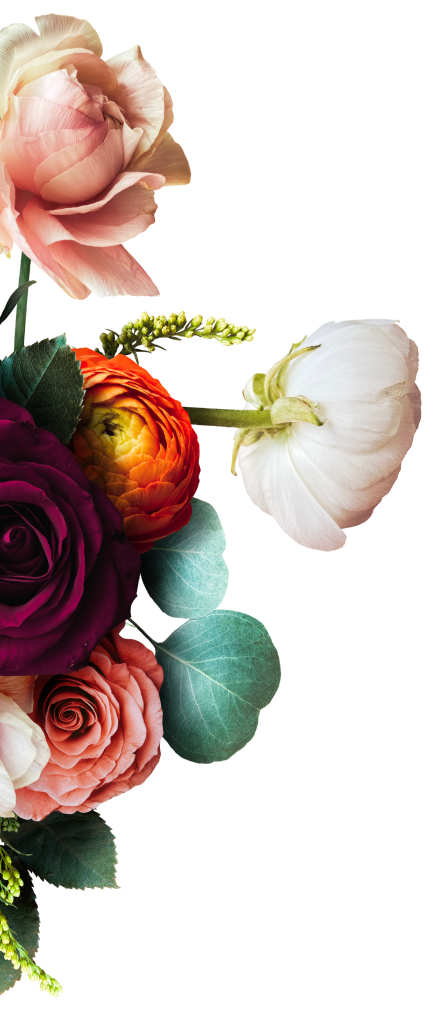 Ok, this is everything we do here at

 to help you create + sell your digital products faster (with minimal tech drama)
Tap here to jump to another section:
Go ahead, poke around + check out all our free offers 👀
Format: 20 min. video Mini Training
Format: PDF checklist + strategy guide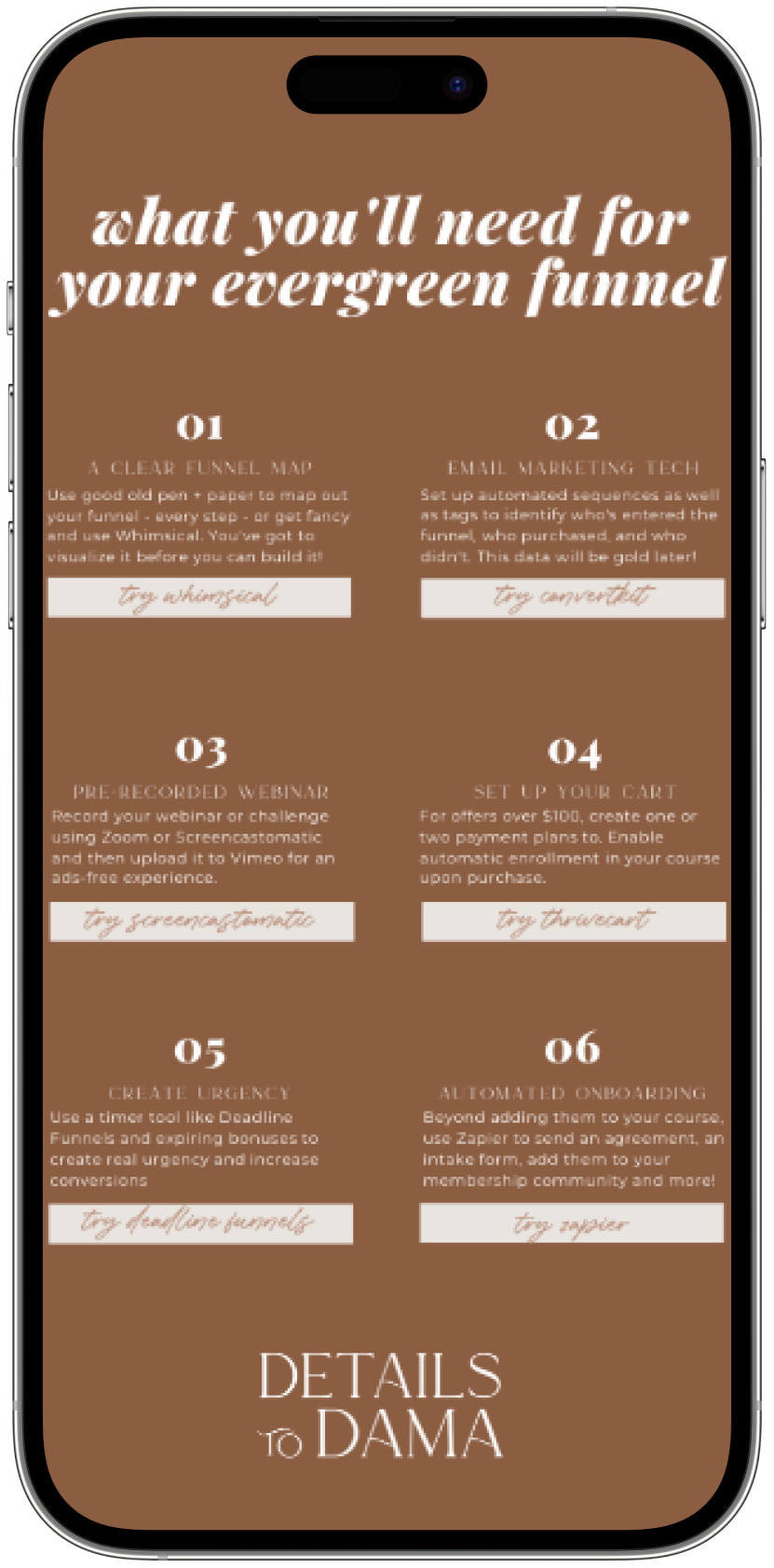 Are you done with the drama of live launching and want the freedom of an evergreen funnel? Grab this free 8-page ebook to learn how to go evergreen. You'll get…
The 6 essentials of an evergreen funnel

My favorite tech tools to get the job done

How to analyze your live launch and which pieces to repurpose for your evergreen funnel

A fillable workbook to help you identify your funnel's strengths and create an action plan
Format: Fillable Google Doc checklist + workbook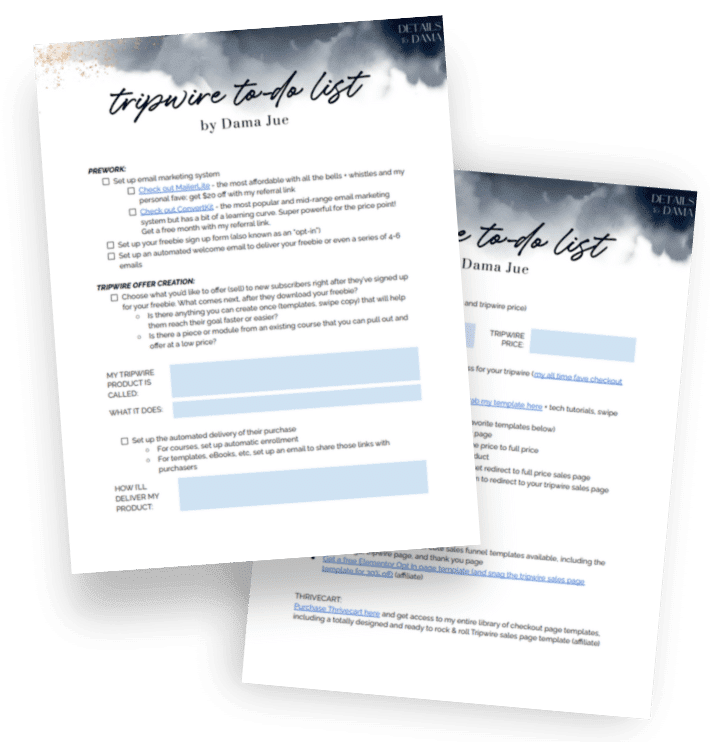 Ready to set up your tripwire offer but don't know where to start? Get my free interactive checklist and set up your tripwire funnel in an afternoon. You'll get instant access to:
Step-by-step instructions for mapping out your offer, pricing and tech

Which email marketing software to use so you can finally decide: ConvertKit, Mailchimp, or something else?

Links to tripwire sales page templates because we all know how much of a time-suck design work is and details on getting a free template

A fillable workbook to help you design your profitable tripwire offer (to start making money fast)
From wrangling Google Docs to choosing the right email service provider for your unique business, these micro trainings have you covered.
Best part? They're all only $9
Learn how to create beautiful revenue-and-engagement-boosting fillable workbooks to accompany your course or challenge, right in Google Docs that inspire ACTION and implementation, and are so easy to make, you can create one in about an hour 💥
Skip spending hours in Canva designing a PDF that isn't even fillable and instead create a workbook for freebie your community will LOVE and actually use
Format: 60 min. training + detailed comparison charts
How to Confidently Choose the Right Email Service Provider for Your Digital Product Business
Stop wrestling with which email marketing platform is right for you, getting frustrated with the limitations of your current email platform, and feeling tempted to migrate your list every other month! Discover the perfect email service provider for your business with this guided training + detailed comparison chart.
Format: Fillable checklist, SOP library, and 30 min. training
How to Nail Recording Your Webinar, Q&A, or Workshop with Zoom
Anyone can hit record on Zoom, but when it really matters, be sure you've set up the recording to be the best possible quality + format you need to send that revenue-earning replay out, be it your webinar, your paid workshop, or even just Q&As/coaching sessions for your group program. 
BONUS: 2 sure-fire strategies to increase show up rate for your live event
Format: comprehensive program + private community
Format: tech + strategy course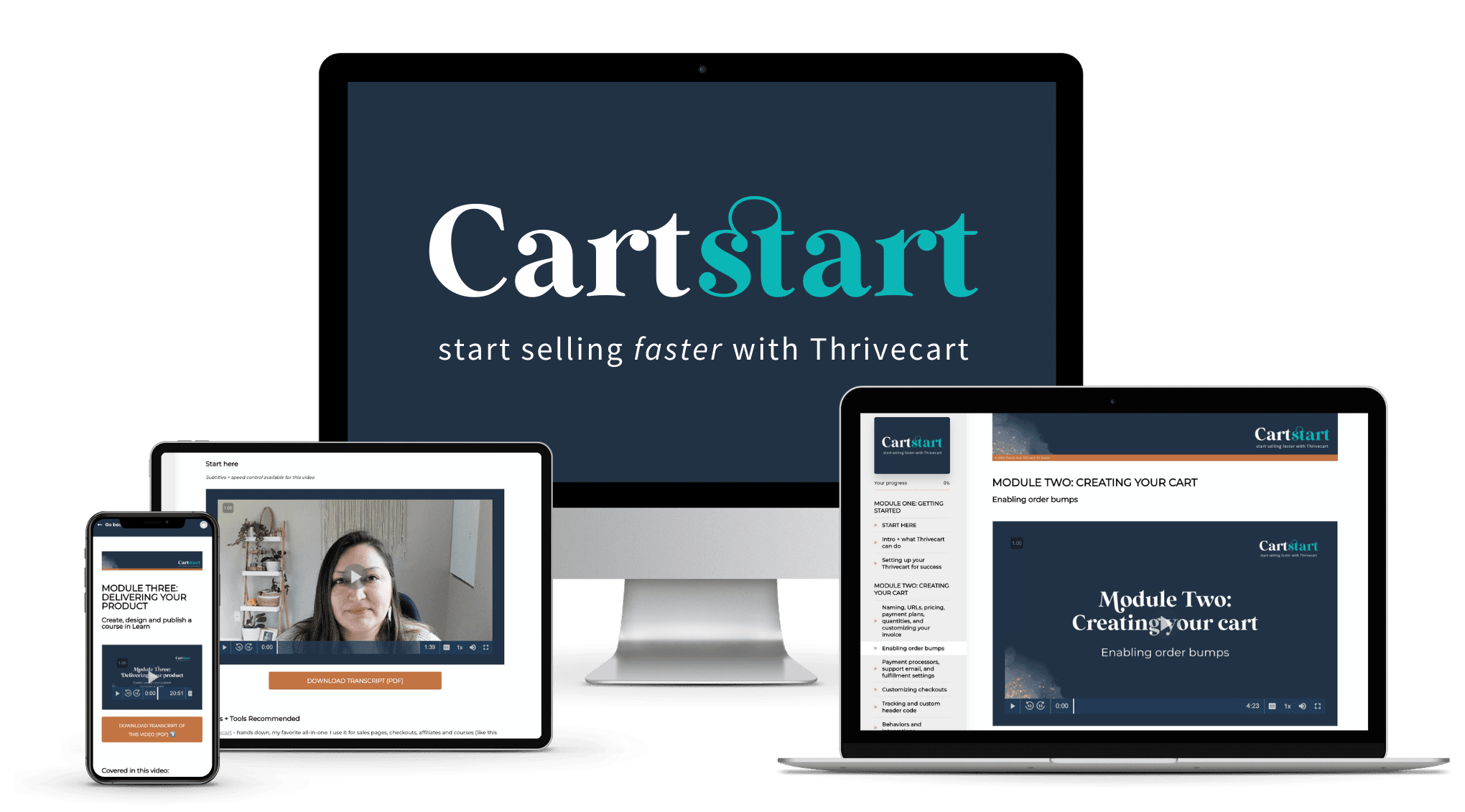 Set up, launch and SELL from Thrivecart even if you're not techy, a total newbie to Thrivecart, or bought it ages ago and never set it up! With CartStart, you're getting everything you need to get your Thrivecart setup DONE in a single day, create your first product (start to finish), learn to use coupon codes, add on order bumps, and design + publish a course in Learn!
Format: tech + strategy course, upsell templates
Take the guesswork out of deciding on what to offer as your upsell, how to price it, designing the page, and making all the tech play nicely. Unleashing Upsells is the course to help you set-up and increase your revenue with upsells (and downsells!) using Thrivecart. Strategy, tech tutorials, and templates included.
Format: tech + strategy course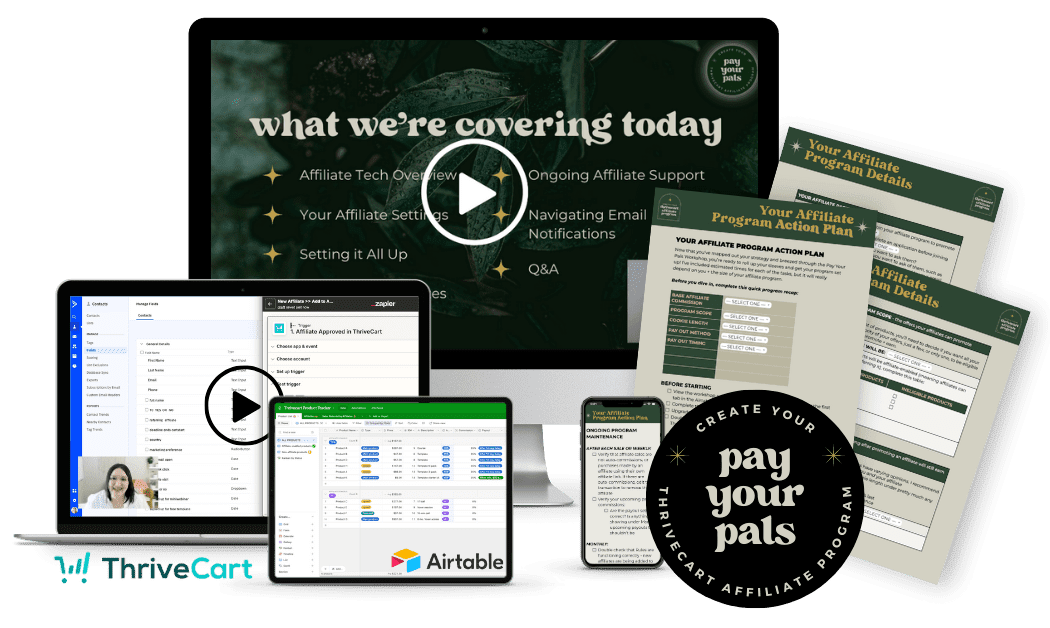 EVERYTHING you need to know to get your Thrivecart affiliate program up and running (and sending you referrals!) packaged into a powerful workshop. Thrivecart's affiliate settings look deceptively easy, but turns out it's very confusing to create a cohesive, multi-offer affiliate program that runs seamlessly and completely on auto-pilot. I'll show you the proven way to set it up to minimize stress + bring in the revenue.
Format: tech + strategy course, tripwire template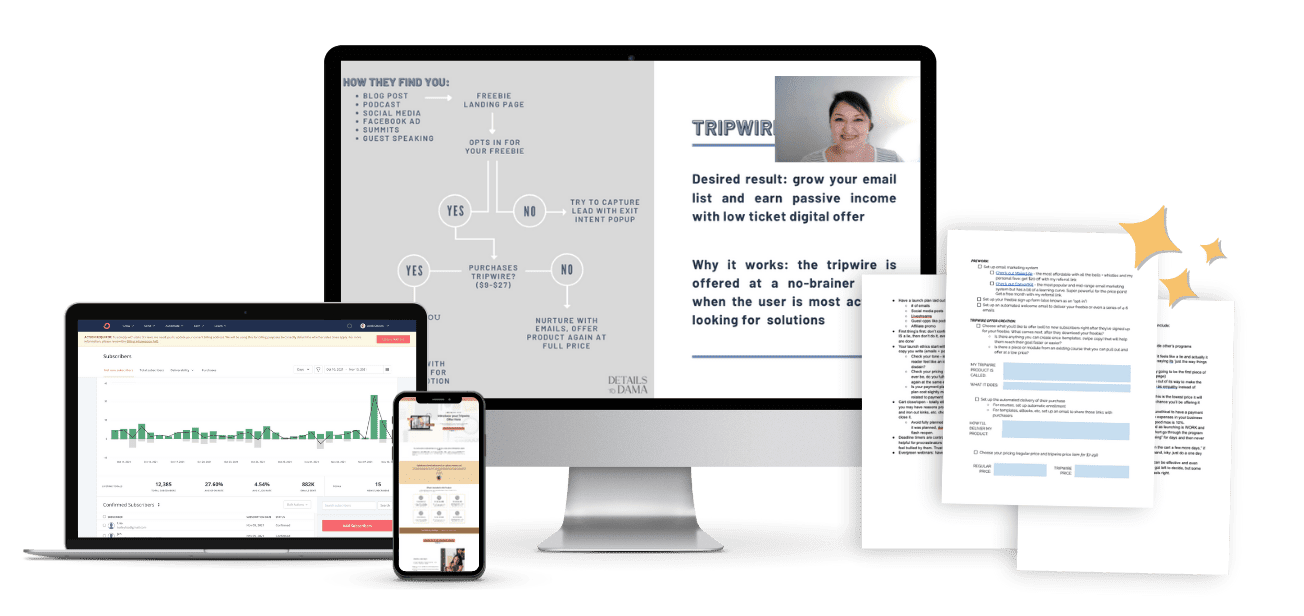 Want to fast-forward the whole tripwire setup process with expert help and a template? Learn exactly how to set up your first tripwire funnel and set up fully automated flash sales for every single new email subscriber. Included in this offer: detailed tech tutorials, strategy trainings on what to offer as a tripwire and how much to charge for it, and a complete Thrivecart tripwire template.
BONUS: Canva digital product mockup templates
Format: tech + strategy course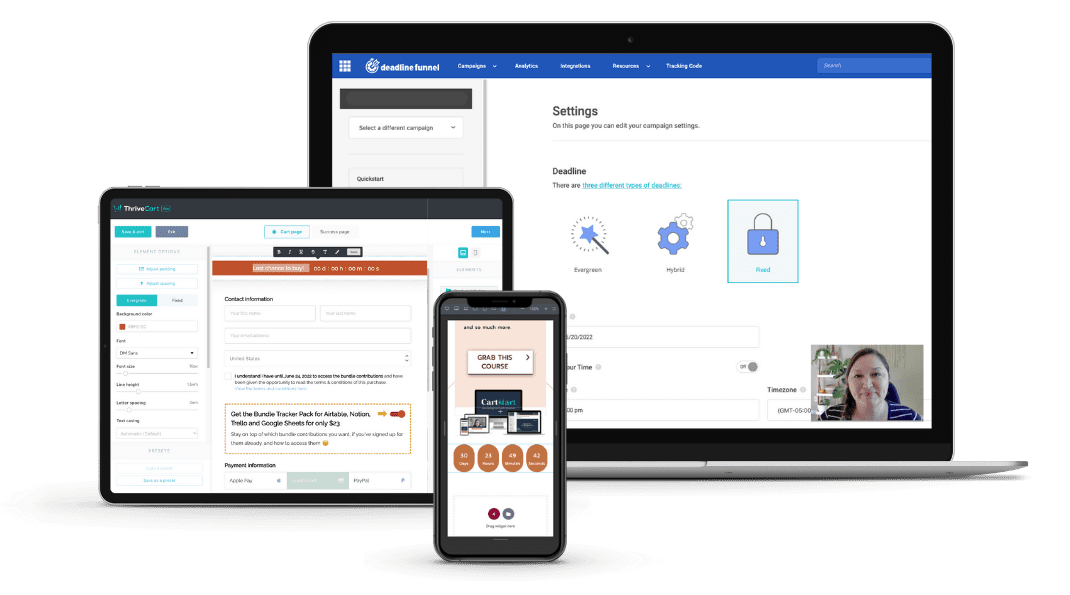 Step-by-step tutorials on the when, why and HOW to set up countdown timers so you can increase sales, enhance the customer experience and go to bed calm and confident knowing your funnels are running perfectly. Tech covered in this training: Deadline Funnels, Elementor Pro, and Thrivecart countdown timers.
Format: tech + strategy course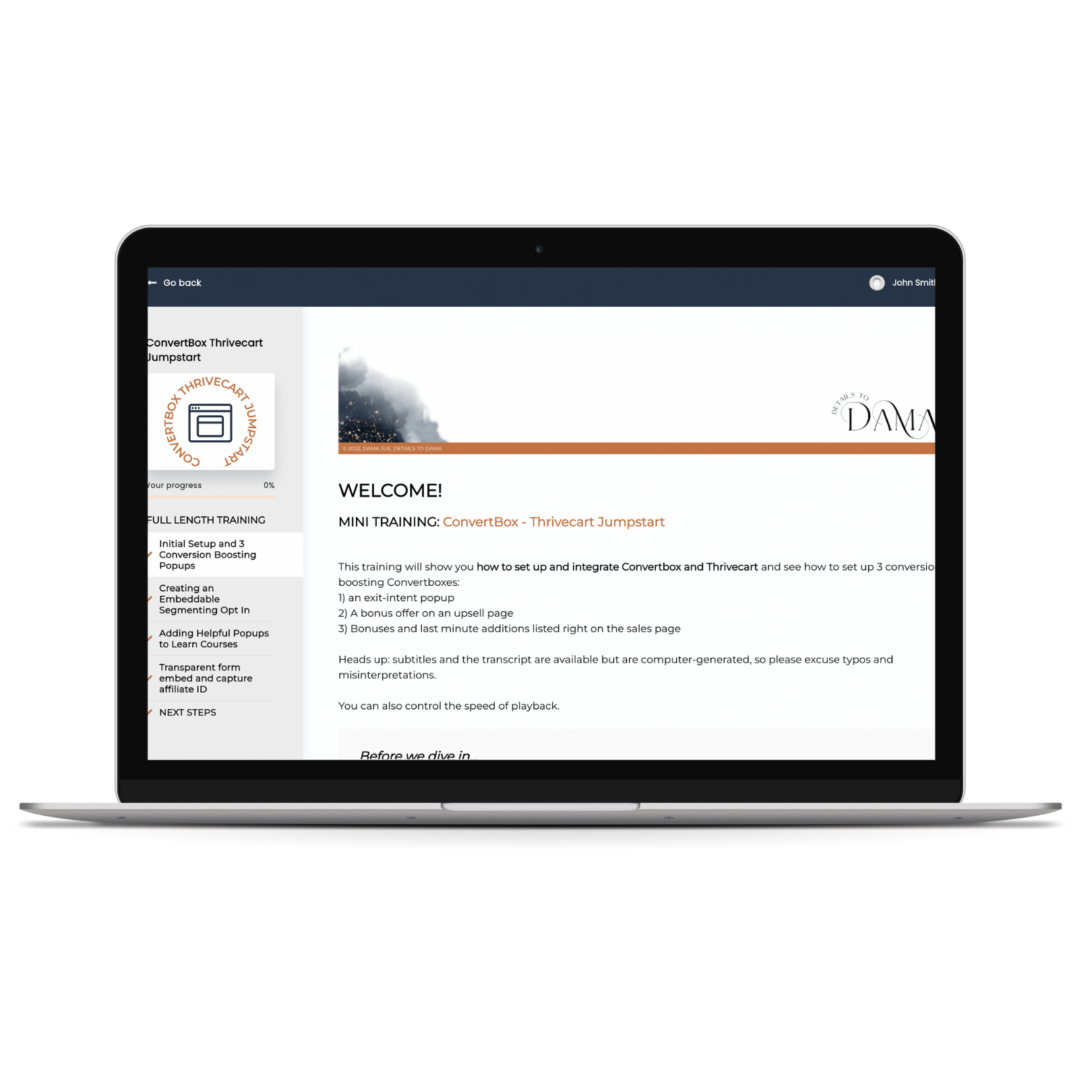 The only training you'll need to turn your Thrivecart (or WordPress website) into a passive sales machine, with Convertbox! Convertbox Thrivecart Jumpstart is a mini course that will show you how to use my absolute FAVE popups tool, ConvertBox, with Thrivecart, on sales pages AND inside your courses hosted in Learn.
Format: 2 detailed strategy trainings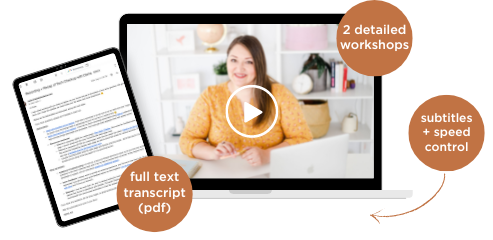 TWO no-secret-left-unshared workshops:
Service Provider to 5-Figure Digital Product 

Boost your Income as a Service Provider with Affiliate Marketing
FORMAT: TECH + STRATEGY COURSE
You've got Thrivecart, you're getting the hang of Learn, but now you're ready to launch your membership – can Thrivecart handle a memby for you? YUP – but you need a little finessing and I've got just the thing for you. I'll show you how to manage + support your members, deliver timely 'we're about to bill you' updates, handle cancellations, set up strategic free OR paid trials, with out without limited content, and so much more

Format: include long-form sales page, success page, and in most instances, an upsell and downsell template as well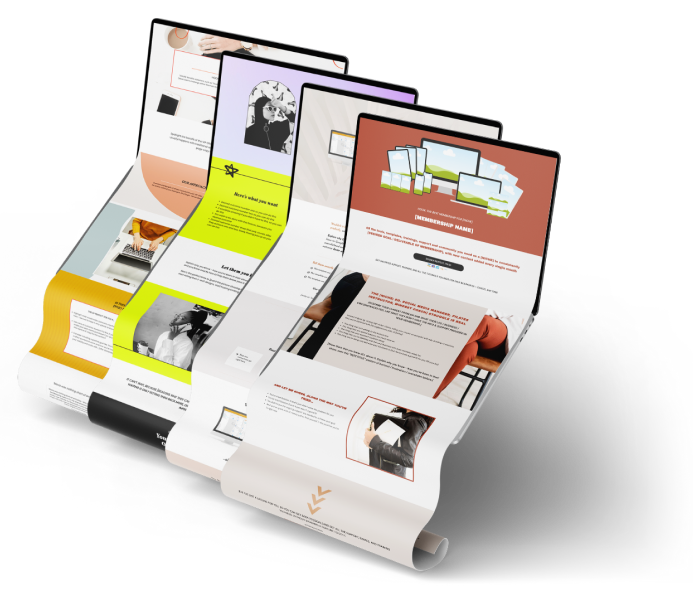 Options available include: 
• Self study course funnel 
• Coaching funnel
• Membership funnel
• Digital Product funnel
All templates include:
• Tech tutorials (basic + advanced)    
• Thrivecart fonts guide
• Canva digital product mockup templates
• Sales Page Copy Guide
Format: Tested and proven checkout templates for Thrivecart that were custom-designed to boost conversions. May be used with your sales page or as a stand-alone checkout.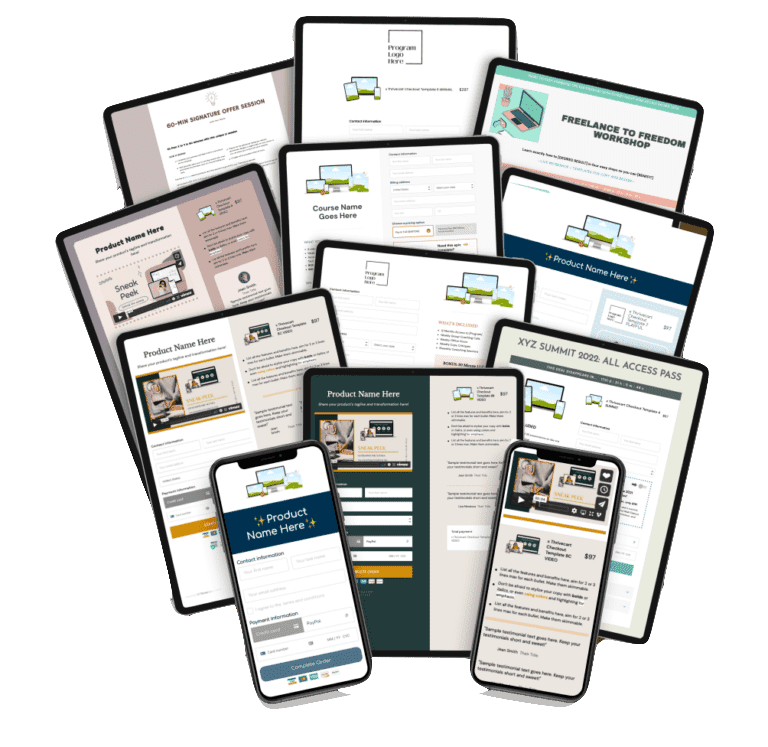 Options available include: 
• Course checkout template
• 1:1 strategy session checkout
•  Live workshop template
• Summit all access pass checkout template
All templates include:
• Tech tutorials (basic + advanced)
• Thrivecart fonts guide
• Canva digital product mockup templates
• Sales Page Copy Guide
Can I whisper my best marketing strategies to you on the regular?
Cool – hop on the list here and be the first to hear about new trainings, must-have tech, clever ways to leverage the tech you have, and marketing strategies I only share with my email list